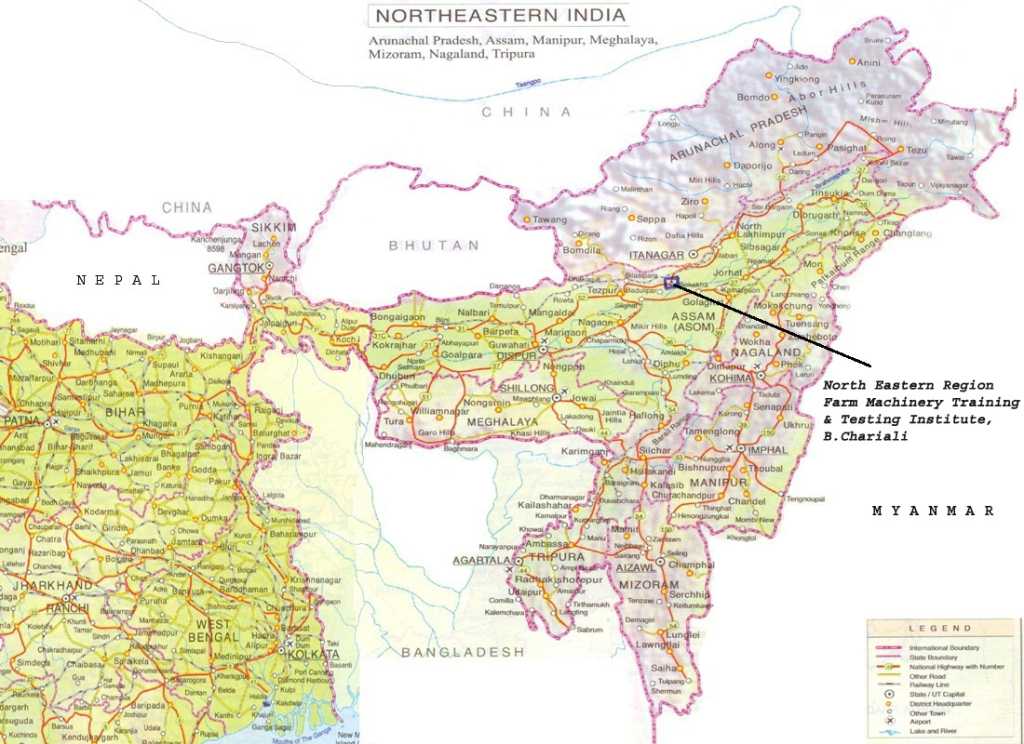 Location: North bank of River Brahmaputra
Longitude range: 92°16' East - 93°43' East
Latitude range: 26°30' North - 27°01' North
---
Location
The Institute is located at about 275 kms away from Guwahati and 4 kms from Biswanath Chariali Centre on Biswanath Ghat Road in Sonitpur District. National Highway No.52 passes through Biswanath Chariali. Railway Station is 8 kms away from this Institute and the station is on the railway line connecting Guwahati-Murkong Selek Line. The Institute is situated at about 75 Kms from the nearest airport, Tezpur.
Climate
Sonitpur District falls in the Sub-Tropical climatic region, and enjoys Monsoon type of climate. Summers are hot and humid, with an average temperature of 29°C. The highest temperature is recorded just prior to the onset of Monsoon (around May-early June).
Summer rain is heavy, and is principally caused from late June to early September by the moisture-laden South-West Monsoon, on striking the Himalayan foothills of the north. Such rain is both a boon and a bane for the people. A boon, for it provides natural irrigation to the fields; and a bane, as it causes the rivers to overflow their banks and cause floods.
Autumns are dry, and warm. It gets cooler as the months progress.
Winters extend from the month of October to February, and are cold and generally dry, with an average temperature of 16°C. It gets quite chilling in late December and early January, on account of snowfall in the upper reaches of Arunachal Pradesh.
Springs are cool and pleasant, occurring in the months of late March and April. Of course, during these months, flash rains and thunderstorms are at times caused by cyclonic winds, known in local parlance as Bordoichila.